Space for dealers
We have a whole fair hall. The plan is to place tables along the walls and in the middle where the exhibits will be displayed. A dealer's stand is 4 x 3 meters and includes display tables, four chairs and an extra table to have inside the stand. It is possible to book additional tables & chairs, according to a separate price list. All stands are corner stands. Free wireless internet is available. Opening hours are Friday 11-18, Saturday 10-17 and Sunday 10-15. After hours the space will be locked and monitored.

Exhibitorservice
If you need any extra equipment, please contact
Malmö Mäss-Service.

Access for dealers
Dealers will have access starting 08:00 Friday 31 August. Unloading will be possible on Thursday afternoon 30 August 12:00 – 18:00. There is a loading dock where vehicles can load on and off.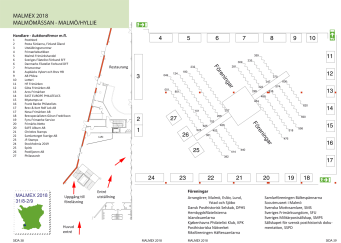 Stand prices
Single stand SEK 5.000:- + VAT (if applicable)
Double stand SEK 9.000:- + VAT (if applicable)
Do you want a larger stand? – please contact us

Booking
E-mail: handlare@malmex2018.se